Bishop's Welcome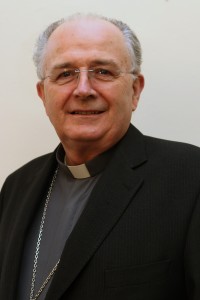 Welcome to the website for the Kilmore Diocesan Pastoral Centre.
In his message for the 48th World Communications Day in 2014, Pope Francis said, "The internet, in particular, offers immense possibilities for encounter and solidarity. This is something truly good, a gift from God."
The website of the Kilmore Diocesan Pastoral Centre is one of those possibilities. It is a gift from God to our diocese and to all who wish to access it. I thank Mr Sean Coll, the Director of the Pastoral Centre, and all who have worked to create this very important means of communication and I hope that it will serve to promote, in the words of Pope Francis, 'encounter and solidarity' among all who use it.
We now live in a highly technological age and the Church needs to embrace the opportunities which advancing technology and social media opportunities offer. One of the basic purposes of any good website is to provide accurate and timely information. The Pastoral Centre's website is no different in that regard and it will endeavour to support and promote the activities of the Centre by spreading the word about them as effectively as possible. It also has Facebook and Twitter capacity which is also a big part of the modern internet culture.
The website offers up-to-date information on a range of pastoral and other activities provided the Centre and across the diocese as a whole. It also gives links to other church organisations and initiatives, both nationally and internationally.
I know that the team in the Pastoral Centre is keen to ensure that the website is an interesting, user-friendly and useful resource for the priests, religious and people of the diocese and further afield. Indeed, Seán would welcome your feedback on its content and future development.
I pray that the website will be a source of hope and inspiration for those who use it as they journey in faith.
Leo O'Reilly
Bishop-Emeritus of Kilmore
10 February 2015