Ex Umbra in Lucem – Diocesan Pastoral Centre prepares for Christmas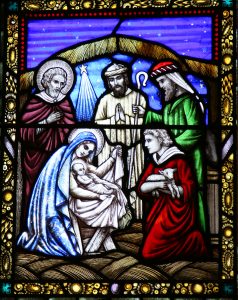 Ex Umbra in Lucem – Diocesan Pastoral Centre prepares for Christmas:
A beautiful ecumenical service was held in the Conaty Chapel of the Kilmore Diocesan Pastoral Centre on Monday 4 December last to mark the beginning of the season of Advent, preparing for the great feast of Christmas.
The traditional service of Lessons and Carols had its origin at Truro Cathedral in England on Christmas Eve 1880 when the then Bishop of Truro, F.W. benson, developed a service of scripture readings and supporting carols. Some 38 years later in 1918, this format was adapted for Christmas at King's College in Cambridge, England. The BBC broadcast from King's College helped to popularise the Service of Lessons and Carols which cathedrals, churches and chapels throughout the world quickly duplicated.
The heart of the service continues to this day – that is, the telling of the Christian story of faith from the fall of Adam to the coming of the Word Incarnate.
The service was led by Fr. Ultan McGoohan, Diocesan Director of Pastoral Services, assisted by altar servers from the Sacred Heart Church, Arvagh, Co. Cavan, and began in candlelight. The beauty and solemnity of the service was greatly enhanced by the participation of the Lassus Scholars under the directorship of Dr. Ite O'Donovan and the acclaimed organist, Simon Harden. The readers were John Paul Feely, Dean Nigel Crossey, Abby Fee, Seán Coll, Peter Pollock, Carol Watson, Brian Ward and Agnieszka Adamska. Fr. Ultan gave a short reflection. Young people from the Cathedral Parish of Urney and Annagelliff in Cavan acted as ushers. Volunteers from Castletara parish assisted with car parking. The Master of Ceremonies was Seán Coll, Director of the Kilmore Diocesan Pastoral Centre.
Officials from Cavan County Council, led by the Cathaoirleach, Cllr. Paddy McDonald, were also in attendance.
Following the service, there was a festive reception in the Drumlane Room during which local musician, Niamh Smith, provided the music.
The event was made possible through the good offices of Anne Marie Ward, Heritage Officer with Cavan County Council, and funding gratefully received from the Creative Ireland Programme 2017-2022 as part of the Creative Ireland Events Programme for County Cavan. The assistance of local composer, Paul Flynn, in co-ordinating the arrangements is greatly acknowledged.
Simon Harden at the organ
Dr. Ite O'Donovan, Director, Lassus Scholars
Paul Flynn, local composer, who also assisted with co-ordinating the service
The Lucenarium Ceremony at the beginning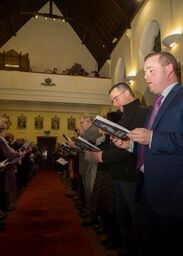 The Congregation in full voice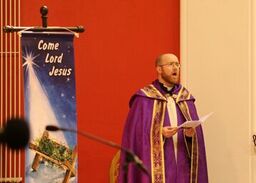 Fr. Ultan McGoohan, Diocesan Director of Pastoral Services, leading the service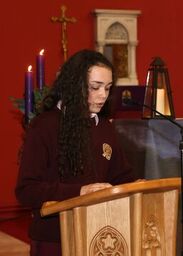 Abby Fee reading one of the lessons
Peter Pollock reading another of the lessons
Dean Nigel Crossey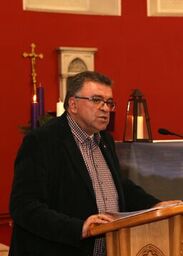 Seán Coll, Director of the Kilmore Diocesan Pastoral Centre
A view of the congregation from the organ loft
Members of the congregation participating in the service
Cllr. Paddy McDonald, Cathaoirleach of Cavan County Council, with Council Officials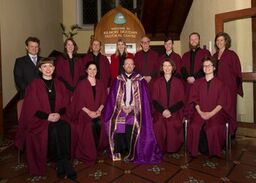 Members of the Lassus Scholars with their Director, Dr. Ite O'Donovan, Simon Harden (Organist), and Fr. Ultan McGoohan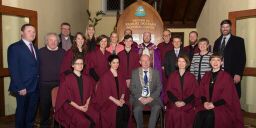 Cllr. Paddy McDonald. Cathaoirleach of Cavan County Council, with the Lassus Scholars, Council Officials, and Diocesan Pastoral Centre Personnel
Cllr. Paddy McDonald. Cathaoirleach of Cavan County Council, addresses those who attended the festive reception after the service
Niamh Smith who provided the music during the festive reception after the service